Automatic Power Factor Control Panel (APFC)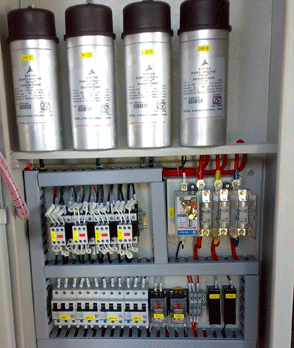 Now days electrical networks furnish to variety of non linear loads (like UPS, Soft Starter, VFD etc.) which dynamically fluctuates and creates Waveform distortion thereby necessitating installation of APFC Panel with line filter. The above facts the customer necessitate to install an ideal AUTOMATIC POWER FACTOR CORRECTION (APFC) SYSTEM.
It is essential for any HT & LT Industry / Consumer to install an automatic power factor controller system to Save Energy by consistently maintaining higher power factor. Low Power Factor leads to poor power efficiency, thereby increasing the apparent power drawn from the distribution network. This result in overloading of Transformer, Bus bars, Switch gears, Cables and other distribution devices within the Industry or consumer area.
Reduction in Maximum Demand (KVA)
Reduction in Energy (KWH) consumption
Longer life of the existing electrical distribution components like Motor, transformer, switch gears, cables, etc.
Optimize the connected load for improved plant load factor.
Avoid high current consumption losses.
Decrease Maximum Demand KVA, thus avoiding penalty and Demand Charges.